Looking for best business blogs which accept guest posts? Now stop looking search engine results and web pages. Take a look at the article below and visit the blogs to post your guest posts.
What is Guest Post?
Guest Posting is a practice of writing a blog post for another website or blog. In return, you may expect author bio along with sweet backlink(s) toward your website.
Guest blogging is considered a very famous marketing strategy for the blogs and business websites whose domains are alike. But for this, some efforts are required like you need to search the best guest posting sites where you can post your articles or blogs as a guest author.
This entire practice requires effort by the author, as he needs to look for the websites which will accept his contribution.
Why Guest Posting is Important?
These days writing a guest post is considered among the best ways to bring internet traffic towards your website. These guest posts should be engaging which will lead the readers to your website in an interesting way.
It is true that there are number of advantages of blogging as guest post. First and fore most benefit is back linking. It is an efficient way to divert the traffic towards the author's website and can be placed easily anywhere in the article.
Through guest posting, many of the business websites and blogs establish good domain authority and create brand awareness. Even you have newly entered in the market, through some of the posts guest posted on weightage websites can bring you the target audience.
While building up the linking, you must create an excel sheet where you can list down the link with your web page and an anchor text. This fasten the process of guest blogging. The content should be made in such a way that your products are introduced to the desired customer and awareness is also increased.
Here is the list of best business blogs that accept guest posts in terms of domain authority, page authority, domain rating and trust flow. The screening process is very strict by the websites whose domain authority is high.
Best Business Blogs That Accept Guest Posts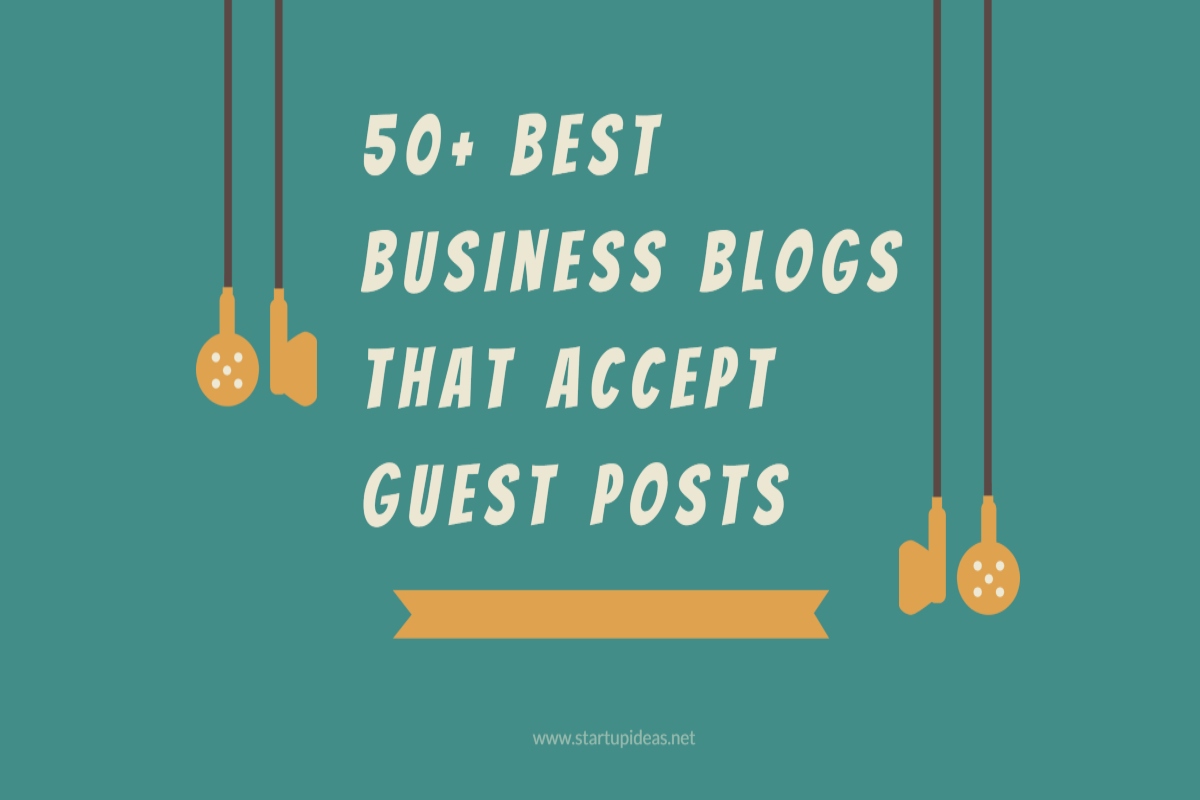 1# Forbes
Forbes is one of the best and leading business blogs that accept guest posts. Here you can submit your guest posts in business, investments and technology niche.
2# Business Insider
In the list of best guest blogging sites, Business Insider is one of them. You can submit your guest blog here for business, media and technology niche.
3# Survey Monkey Blog
As you know, business blogs involve startup advice, how to guides, financing, business management and marketing. Survey Monkey Blog is another good blog for guest posting. It is all about small businesses and public poll.
4# Entrepreneur
As the name suggest. Entrepreneur.com is all about entrepreneurship. But they also accept blogs from outside authors in technology niche.
5# Harvard Business Review
It is about leadership and management of business
6# Fast Company
For business and technology
7# Hub Spot
It is the blog about marketing and sales
8# Venture Beat
Associated with business and technology
9# Seeking Alpha
About investment in market
10# Kissmetrics
Relation of market with customer service
11# Contentrally
Includes news about social media and business
12# MarketingProfs
About business and marketing
13# Business to Community
As the name suggest, it is actually a business community blog where people love to share business techniques and tips for beginners.
14# Benzinga
Related to investment
15# All business
Includes investment, sales and technology.
16# Data and marketing association
Sharing tips pertaining to Management of data.
17# CoShedule
All about marketing and productivity.
18# Investing.com
Investing is one of the main branches of business. Here you can discuss and share your expertise on investing.
19# SiteProNews
All about business
20# Bplans
They prefer to publish business plans contents.
21# Business Opportunities
They regularly share lucrative business opportunities for their readers.
22# CustomerThink.com
It is a customer centric blog. Here you can publish contents pertaining managing the relationship with the customer
23# Wise Bread
Shopping in a given budget
24# BizSugar
About small businesses
25# Dlvr.it
Growth of the business
26# Startup Grind
27# Startup Nation
Related to management and growth of startup
28# Killer Startup
Updates related to the startups
29# Accounting Webs
Do you want to share your accounting tips with this website audience? This blog would be great place for you to write a guest post.
30# Training Zone
All about journalism and digital media.
31# My Corporation
It is about the services provided by the registered agents.
32# My Customer
33# Alley Watch
Its about technology and business startup
34# Creately
About entrepreneurship
35# inc42:
Tech startups in India
36# Mashable
Mashable is primarily a technology blog but they also share business tips, and regular write about digital and social media.
37# Tweak your Biz
It is the community of online businesses
38# HR Zone
39# GetResponse
It is about digital marketing
40# Young Upstarts
41# StartUp Bros
42# Organized Assistant
It is about web designing
43# Small Business Bonfire
44# E Secrets
It tells about business ideas
45# Better Lemonade Stand
Tells about E-commerce
46# Return Customer
47# Careermetis.com
They share actionable tips for job seekers. You can write blogs here and help people who are looking for jobs.
48# Frugal Entrepreneur
49# Opportunities Planet
Online business
50# Growing your Biz
51# Fincyte.com
You can publish your guest post in business and technology niche.
52# OnYourDesks.com
This is relatively a new blog focuses on latest technology, productivity and startup trends.
Wrapping Up
The best part of guest posting is that you can post without any limit. But if you are looking for productive results so do post on different blogs and websites. Keep tracking the strategies you are using while posting. Monitor the growth and your subscribers.
Last but not the least, be responsive and engaging in comments. It will build connection with your customer or audience. It will the gateway towards your website.
For more helpful contents, feel free to visit our resources section 🙂